Lunch menu
Utorok | 05.12.2023
Tradičný silný mäsový vývar so zeleninou a rezancami
350g
1. Tekvicovo karotkové placky, miešaný šalát, cottage dresing s pažítkou 1,3,7
150g
2. Kuracie batôžky plnené ORAVSKOU slaninkou a eidamom, zemiaková kaša, kyslá uhorka 1,3,7
200g
3. Marinovaná bravčová krkovička s restovanou cibuľou a volským okom, americké zemiaky
350g
4. Špagety BOLOGNESE z hovädzieho mäsa, lúpaných paradajok, parmezán 1,7
150g
5. Pastiersky syr plnený šunkou a šampiňónmi, varené zemiaky s pažítkou, tatárska omáčka 1,3,7
150g
6. Bravčová panenka na omáčke z čerstvej ovčej bryndze, dusená ryža 1,7
Quality food
Great cuisine with traditional recipes from our ancestors. We embrace freshness of ingredients and traditional cooking process. Our professional service also adds to the feeling of uniqueness.
Tank beer
Our master tapmen draft the excellent Velkopopovický Kozel 11% directly from the tanks, always with foam as thick as cream.
Unique atmosphere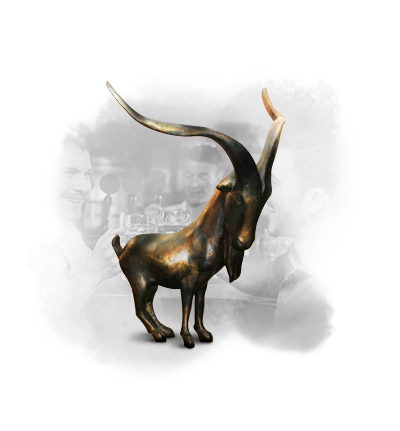 A majestic statue of the Kozel, unconventional tables with metal hooves and other details. All these elements combined with wood, leather and metal create a pleasant and unforgettable atmosphere in our Kozlovna.